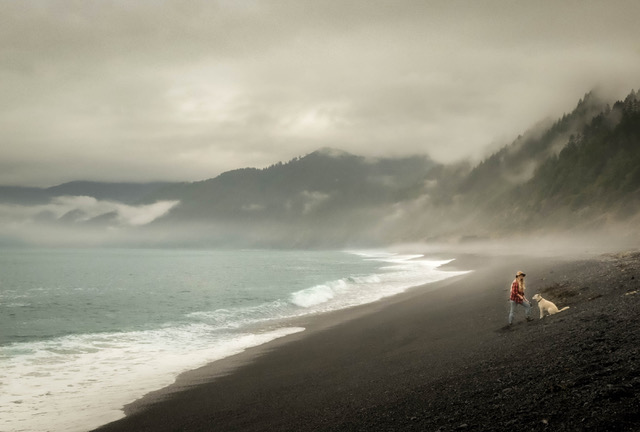 Just over 200 miles from San Francisco, away from the hoards of tourists and city-dwellers, there's a lonely stretch of beach with no major roads to access its black sand beaches. It's aptly named the Lost Coast of California. The Lost Coast Trail is on the bucket list of only the most adventurous backpackers and hikers looking for a little solitude and a lot of wild.
The Lost Coast is found in California's King Range, where cliffs climb and dip into the unforgiving seas below. Where pine-covered peaks loom over the beaches, their tips barely floating above the thick fog. Where cold and clouds hang over the beaches even during otherwise sunny California summers. 
This rugged landscape is not for those looking for comfort and amenities, which is why very few people accidentally land on Lost Coast. But if you're looking for an adventure and some memorable hiking trails that even require you to consult the ever-changing tides, the Lost Coast is more than a small pin on a map. Here is your Roadventures Route to California's intrepid Lost Coast from San Francisco.
Your Ride
The great thing about heading to the Lost Coast in a Roadventures van is everything our vans have to offer to keep you comfortable during the entirety of your adventure. Our vans are fully stocked with everything you might need to stay off the grid for a few days, including plenty of water and power via solar or diesel generator. The vans are also equipped with a fridge/freezer combo so you can keep your food cool and cook while on the go! You can pick up your van at a Sports Basement location in San Francisco and grab any last-minute outdoor essentials you might need before your trip. 
Getting There
By road, you can only get close to the ocean at a few points–via Mattole Road near Ferndale, and again at Shelter Cove, a small town west of Garberville. From San Francisco, it's about 5 hours drive time if you decide Mattole road from Ferndale into the northernmost tip of the Lost Coast. Mattole is a long and winding road, which will take you around 45 minutes to drive the 18 snaking miles. If you're feeling particularly adventurous, you can backpack the 20 miles all the way to the Black Sands Beach in Shelter Cove or do a few day hikes then head back south on the 101 toward Shelter Cove the next day. 
You can also travel first to Shelter Cove, by taking the Garberville exit off the 101 and heading west on Shelter Cove Road. Shelter Cove offers the most in the way of amenities near the Lost Coast. Similar to Mattole Road the road to the town is also an extremely narrow, steep, and winding thrill. So much so that you can always tell apart the Californians from the visitors, who are white-knuckling their steering wheels at ten and two. 
Accomodations
There isn't much in the way of ritzy accomodations near the Lost Coast, but with a Roadventures van you'll have your own cozy oasis on the coast. There are a few campgrounds nearby both in the northern part of the Lost Coast and in the south in Shelter Cove where you can sleep and watch the sun rise over the ocean from bed.
Shelter Cove RV Park and Campground

Mattole Campground 

King Range National Conservation: permits required for backcountry camping but not in designated campgrounds or for day use 
Hiking
Hikers can enjoy exploring the extensive coastal wilderness of the Lost Coast from north to south or in reverse. The beach goes on for miles, with plenty of driftwood, shells, rocks, and other sea treasures to examine as you lazily beachcomb along the beach. You can also check out the Punta Gorda Lighthouse: just 3.5 miles nearby the mouth of Mattole River. If you plan to hike or backpack on the beaches, it's important to check out the tidal maps and avoid wildlife which are abundant in the area–don't be one of those tourists that gets much too close to the sea lions!
Wildlife Warning: While most wildlife you may run into on the Lost Coast is harmless, there are also bears, rattlesnakes, and mountain lions all nearby. Be careful while you hike and if you have a dog with you, ensure you have proper voice control over it.
If you're feeling adventurous this summer, a trip to the Lost Coast in a Roadventures van could be just the thing. Stay tuned for more Roadventures Routes coming your way this summer!