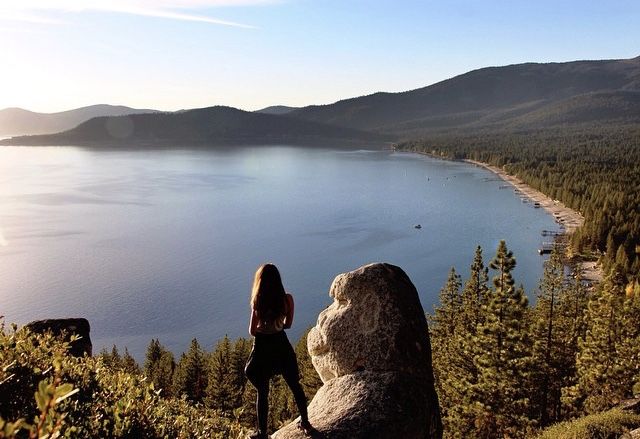 First, a Little History…
Lake Tahoe is known for its sweeping panoramic views, casinos, black bears, year-round outdoor activities, and a fresh pine-y smell. It's also home to the largest (and perhaps the bluest) alpine lake in North America. Lake Tahoe is 2/3 in California and 1/3 in the state of Nevada.
The area around Lake Tahoe was once inhabited by the Washoe Native Americans, and found artifacts confirm their presence there over 10,000 years ago. Lake Tahoe was the heart of Washoe Indian territory, which included the upper valleys of the Walker, Carson and Truckee Rivers. In fact, the English name for Lake Tahoe is derived from the Washoe word "dá'aw," meaning "The Lake."
Tahoe in Every Season
The Tahoe area has a long winter and a short summer. Summer brings warm weather perfect for beach days, and winter usually brings more than 400 inches of snow to the region.
If you aren't coming to ski, then the best time to visit Lake Tahoe is September or October—  the summer crowds have tapered, and the daytime temps can still be well into the 80's (around 26 degrees C). These months are often referred to as "locals summer". If you are coming to ski, then March is usually the snowiest month in Lake Tahoe. 
September and October are still warm enough for summer activities, but it can drop below freezing at night. October can be unpredictable when it comes to weather— it may be warm and sunny one day, and chilly and windy the next, so be sure to dress in layers. 
The coldest months are December through February, with average temps in the 30's to low 40's. Unless it's snowing, you can expect some sunny, warm, cloudless days. Although snow usually starts falling on the higher peaks in October, most ski resorts will aim to open by mid-November. 
Ski season begins in November and depending on snowfall in December, January is usually quite busy. Weekends bring unbearably large crowds, so we recommend coming during the week if you can. 
Many consider March through May to be spring, but in Tahoe it's still winter! Temps will get a bit warmer in April, but large snowstorms are still common. Many ski resorts are open through May, though some operate through June and sometimes into July.
Activities
Tahoe is a world-class area for outdoor recreation. Depending on the season, you have access to climbing, hiking, cycling, kayaking, camping, motorcycling, mountain biking, birding, swimming, boating, floating, fishing, skiing, snowboarding, snowshoeing, sledding— you name it! Here are our recommendations.
Cycling
Cycling is the perfect way to get active and enjoy tahoe's scenic views— sometimes you may even be traveling faster than the traffic! There are many well-maintained paved bike paths to choose from. Here are our suggestions for a mellow ride through the pines. 
South Lake:
South Lake Tahoe Bike Path (10 miles)
Pope-Baldwin Bike Path (3.4 miles)
North Lake:
Tahoe Trailways Bike Path (15 miles)
Incline Village / Lakeshore Drive Bike Path (2.5 miles)
Beaches
If you've never experienced the chilly, crystal-clear pool of blue shimmery goodness that is Lake Tahoe, just know that it's a peak experience that you don't want to miss! With 72 miles of shoreline featuring rocky coves and 360 views of snow-capped mountains, this landscape is distinct from anywhere else in the galaxy. Just remember to pack your trash!
Secret Cove: Located on highway 28, about 1.5 miles south of Sand Harbor.  Park at Secret Harbor Parking area and walk down the access road until you reach the vault toilet, then take the trail to the lakeshore (1/2 mile walk from the toilet). There are no picnic tables or BBQs.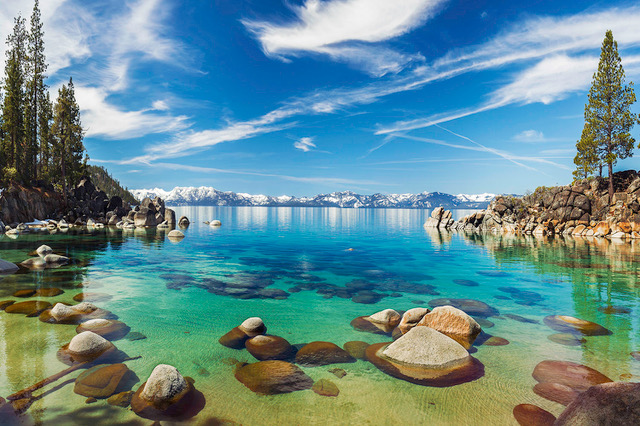 Secret Cove | Photo: billstevensonphotography.com
Whale Beach: This one takes some work to get to, but the views are worth it! Whale Beach gets its name from a protruding rock in the bay that resembles a sperm whale. It's just one of many rocks rising from the water that are super fun to jump off of! Whale Beach can be reached from the Secret Harbor Parking area. It's a 2-mile hike from there down the access road to Whale Beach. 


Whale Beach | Photo: scottshotsphoto.com
Kiva Beach: Kiva beach is an easily accessible beach, just a short walk from the parking lot. It has no physical address— take the road across from Fallen Leaf Road at Hwy 89 (at Tallac Historic Site sign); 75 yards at "Y" go left to Kiva Parking.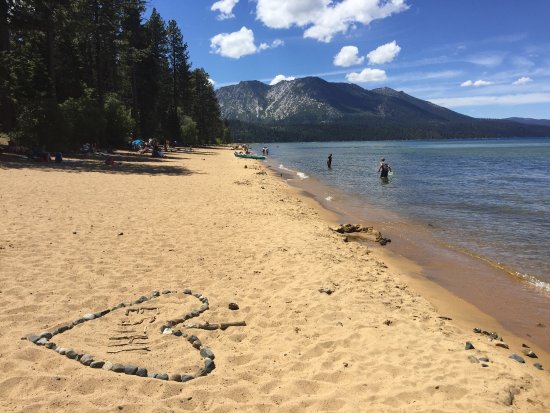 Kiva Beach 
Looking to sun your behind and get rid of some devastating tan lines? Then we recommend Chimney beach in North Lake, as it's clothing-optional.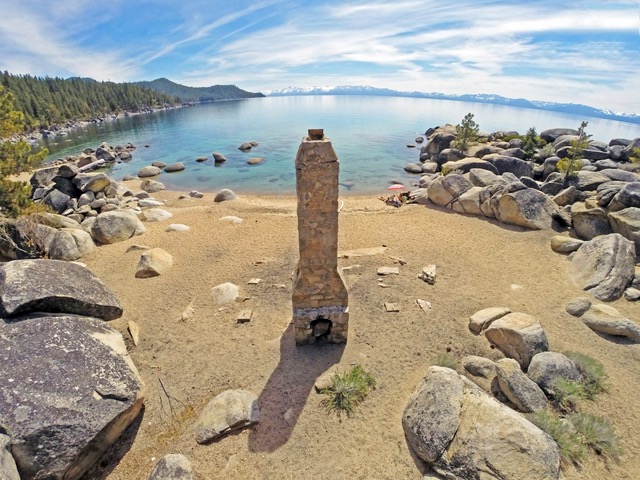 Chimney Beach | Photo: Drone Promotions
My Roadventures has paddle boards available to add-on to any rental. 
Climbing
There are too many incredible climbing spots in the Tahoe area for us to mention. Rest assured there is something for everyone, every skill level and style. We recommend visiting Mountain Project for more info. You can also rent guidebooks from us for use during your Roadventure!
Hiking
As with climbing, there are an infinite variety of hikes to be enjoyed around Lake Tahoe. Here are a couple short hikes with spectacular views to get you started.
Monkey Rock Hike (2.5 miles roundtrip)
This short but steep hike provides wide panoramic views of north Lake Tahoe, as well as the granite boulder that looks like a monkey head overlooking the water. Park next to the Tunnel Creek Cafe, located at 1115 Tunnel Creek Rd suite a, Incline Village, NV 89451.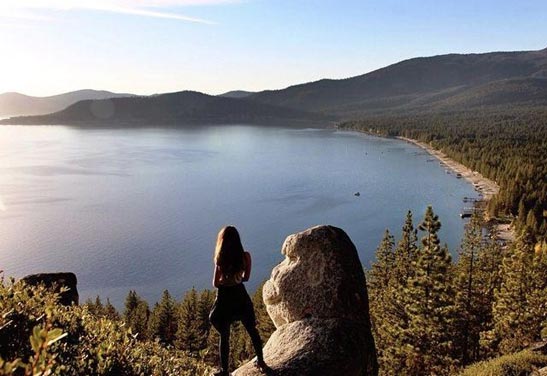 Monkey Rock Lake Tahoe | Photo: thegetoutsideguide.com
Cave Rock Hike (1 mile)
This is an easy trail that takes you to the top of the tunnel over hwy 50. It's about a 15 minute hike with some seriously drool-worthy views. This is a great sunset spot, and also a great spot for photography.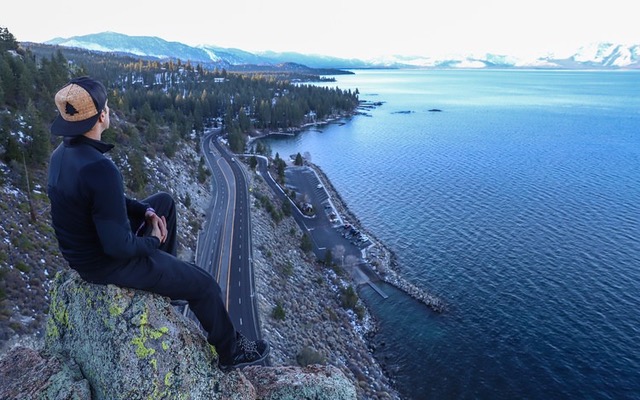 View from Cave Rock | Photo: Shaun Hunter
Culture
Tallac historic site
While Tahoe may be the land of shorts and flip flops in 2020, once it was home to the opulent summer estates of California's rich and famous. In the late 1800's & early 1900's, Tahoe was a heavily wooded environment mainly only accessible by boat, and it took immense resources to build these retreats. You can view the historic estates and boathouse, and visit the Museum.
Vikingsholm castle
Head down a 1-mile trail and find yourself at a castle that looks straight out of a fairy tale! 
Explore the beach and grounds of the 38-room Vikingsholm Castle, maybe the most opulent summer estate of them all! The mansion was built in 1928 and is nestled among towering trees right on the beach. Vikingsholm was the summer home of Mrs Lora Josephine Knight, who commissioned her Swedish architect nephew to design and build the castle, reproducing specific features of ancient Scandinavian buildings.
**Access may be compromised due to COVID-19, be sure to call ahead to check! 
Lake Tahoe Photo Driving Tour
The 72 mile shoreline drive around Big Blue is said to be "the most beautiful drive in America". See for yourself and let us know what you think!  Find more info here.
Animals of Tahoe
CAMPGROUNDS
Due to COVID-19, some amenities listed may not be available, such as showers and restrooms. Call ahead of time to ask before making reservations. 
Right on the Northwest Shore near the Tallac Historic Site and Eagle Falls trails. Right by the city hub and quick access to bike and kayak rentals.

Connected to 20 miles of paved bike trail along the lake

First-come first-served sites are possible for 1 night stays.

Little privacy, but nice views of the lake from all campsites.

$35 per night. 

Site Amenities: Picnic table, food locker, fire ring; no hook-ups

Ground amenities: Coin Showers, dogs are allowed with restrictions.

Operates from

late May through September, weather permitting
Touted as one of the most desirable campgrounds in California, Emerald Bay State Park features majestic views of Emerald Bay, hiking trails, climbing, and Vikingsholm Castle. 

Eagle Point Campground has 100 sites, and is often booked in advance.

Amenities: There are faucets in the campground, coin showers, flush toilets, and dogs are allowed with restrictions.

Campsites are $35 a night. Firewood is available for $10 a bundle and ice is $5 (Cash only).

Eagle Point Campground closes for the 2020 season on Sept 7th.
Fallen Leaf Campground is located on the north shore of the less crowded Fallen Leaf Lake, and adjacent to Taylor Creek. The south shore of Lake Tahoe is less than a mile away. 

The campground features 206 sites that include six yurts and standard tent and RV sites.

Site amenities: Each yurt and standard site has a bear-proof food storage locker, campfire ring, pedestal grill and picnic table.

Ground Amenities: Coin-operated shower facilities, water spigots and accessible restrooms with flush toilets are scattered throughout the campground. Firewood and supplies available for purchase from camp store.

$35-87 per night.

Season runs from May 15, 2020 – October 17, 2020 
Huge resort campsite nestled in the pines with lake and river views. RV sites, tent sites, and cabins available.

ALL the amenities— clubhouse, restrooms, showers, volleyball, pickleball, tennis, pool, laundry, dog park, store, picnic/BBQ area, wifi, and hiking trails.

Prices and site type are subject to availability.

Resort operates year-round.
Conveniently located a few miles south of Tahoe City, but keep in mind it's right next to a busy highway.

Not secluded, as it is located in a residential neighborhood, but a decent option of you want to be close to town.

Site amenities: tables, campfire rings, and grills, flush toilets, and drinking water.

$31 per night.

Open from May 15 – October 17.
TRAVEL TIPS
Check ahead of time to make sure you can bring your dog to your planned activities. There's a strict zero tolerance policy on dogs in many Lake Tahoe State Parks, beaches, and trails. For info on where it is safe to take your dog, visit this link:

t.ly/vM7f

Traffic can be heavy on weekends and parking can be a problem around the lake.

Cell signal and internet can be patchy, especially during peak times.

If coming from a lower elevation, you (and your furry friend!) may need a couple days to adjust to elevation. Be sure to stay hydrated and avoid excess alcohol and strenuous exercise until you have acclimated. 

Heavy snowfall is common in winter, so make sure you have a vehicle with four-wheel drive and snow tires or chains.

Always remember that you're in bear country, and lock up your food at night! All campsites in the Tahoe area will have food lockers/bear boxes.